Why Eighty Seven Park is the Perfect Place to Call Home
Eighty-Seven Park is truly where the park meets the ocean. As one of Miami's most impressive residential establishments to date, our mid-rise condo features estate-quality units with the latest in green and digital amenities. Explore true living with beautifully-crafted condos fitted with modern, elegant and contemporary décor. Each unit showcases large windows that illuminate each corner with natural sunlight and rays. As a Renzo Piano Building Workshop, Eighty-Seven Park is home to growing families, business-minded individuals, and professionals that want to experience the beauty and culture of Miami Beach.
Why Make Eighty-Seven Park your New Home?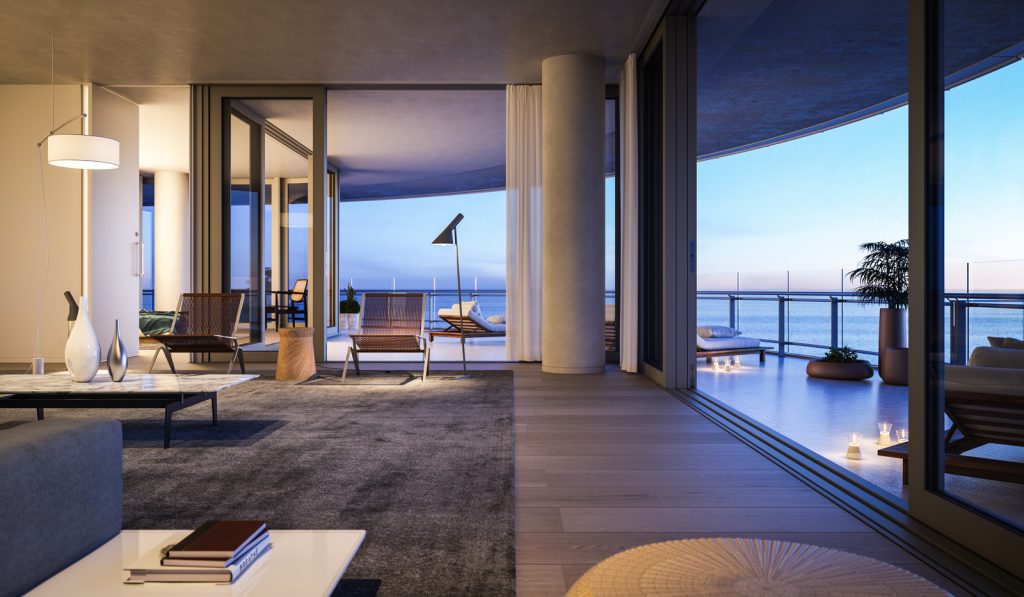 Eighty-Seven Park in Miami captures the vibrant community of Miami Beach at every turn. With exquisite interiors, lavish exteriors and elements of contemporary architecture, this magnificent residence eloquently captures the allure and essence of the area. With a blend of nautical, aquatic and social activities, residents experience the best life has to offer. From pool lounging areas to first-class concierge services in the Lobby, this charming abode was meticulously designed by Renzo Piano – a prize-winning and reputable architect.
Here are some of the reasons to consider Eighty-Seven Park as your new home:
Beautiful Lobby with high-end acoustics and plenty of cozy seating areas. Grab a drink at Enoteca Bar and chat with your neighbors or catch up on the news of the day.
The Pool is the perfect way to wind down after a long day of work or school. Enjoy poolside cabana drinks while soaking up the summer rays. There is plenty of room for pool exercises or just to take a refreshing and rejuvenating swim.
The Fugo Bar serves up the freshest juices and beverages with mouth-watering snacks. Meet your fellow neighbors over a nice glass of Chardonnay or ice-cold beer. The Bar also provides snacks for room service deliveries; the perfect way to enjoy great food and drinks without ever leaving your condo.
The Gym & Spa feature personalized training sessions for all residents. With the latest in exercise equipment, you can stay in shape or enhance your daily fitness regimen. There are also lavish spa treatments, Jacuzzi, steam rooms and much for the fitness enthusiast and novice.
The Building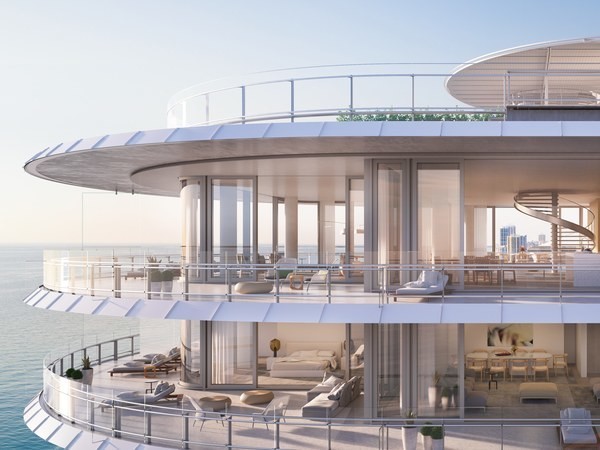 Eighty-Seven Park features 70 villas with uniformity and consistency in design. In fact, you will love the impressive curated art collection that drapes the Lobby and hallways. With fluidity in design, this enchanting establishment captures its natural landscapes and scenery to a tee. Residents will love the amazing views of Miami Beach and Biscayne Bay and have access to a myriad of onsite amenities and benefits.
The residence is also blanketed by lush landscapes and tranquil private green areas. These sections are always maintained to protect the natural beauty and attractiveness of the area. As part of your HOA fees, you get property upkeep with timely repairs, waste removal, and recycling for environmental protection. Similarly, pre-construction condos at Eighty Seven Park give you the freedom to design your interiors as designed. With the best of the modern apartment and down-home traditional living, there is simply no better place to work, live and raise a family in than Eighty Seven Park.
Start Living Today at Eighty Seven Park in Miami
From three bedrooms and three bathrooms to powder rooms, we offer a range of floor plans at Eighty Seven Park. This is accentuated by spacious closets, rooms, and interiors decked out with finely finished floors and large windows. Enjoy barbecues or soothing beach breezes on the balconies that overlook the splendor of Miami Beach and Biscayne Bay. If you are tired of your current residence or planning on moving to a new home, we offer spectacular units that will achieve all your desired results.
For more information on making Eighty Seven Park your new home, simply contact us today at:
info@EightySevenPark.com
305.834.4999
You can also visit our website to explore the floor plans we offer, as well as take virtual tours of the property.