The Financial Facts about Buying a Pre-Construction Condo
Eighty-Seven Park is a luxurious condo-establishment designed by Renzo Piano. As a world-renowned architect and builder, Piano envisioned a complex with elements of air, light and contemporary design intertwined with modern amenities. The result is a vibrant, energetic mid-rise with estate-quality units and plenty of high-end features. Eighty-Seven Park pre-construction condos feature exquisite apartment features blended with traditional home living benefits. From spacious rooms and hardwood flooring to large windows with natural light, there is so much to do and enjoy at Eighty Seven Park.
Why Pre-Construction Condos are Popular?
There are several benefits of investing in pre-construction condos. For one, you can save money on condo investments instead of paying out for larger, expensive homes. Pre-construction condos allow you to design and decorate your units as desired. However, there are certain rules and guidelines established by the HOA that must be followed. Still, these restrictions are not as rigid as deed-restricted communities which give you the ultimate freedom to enhance your units as needed. Here are some more financial benefits of buying pre-construction condos at Eighty Seven Park:
You choose the floor plan and floor you would like to live on. This is one of the main benefits of purchasing a pre-construction unit.
Pre-construction condos are brand new and never have been lived in. This means you and yours get brand new flooring, appliances, and convenient amenities at every turn.
You also get to design and decorate your interiors as needed. Your HOA fees also go towards property upkeep, landscaping, waste removal, and repairs.
Warranties are available for your structures and equipment in the new condo. The same also goes for appliances to help you and yours live worry-free.
Pre-construction units provide flexible ways to secure ownership. This includes cost-affordable deposits (usually every 6 months) until occupancy. This gives you the freedom to move in when everything is set and ready.
Your property will also see appreciation within 1-2 years of purchase. This is a strong benefit of buying pre-construction before all units are built and the complex is ready for move in.
Life at Eighty Seven Park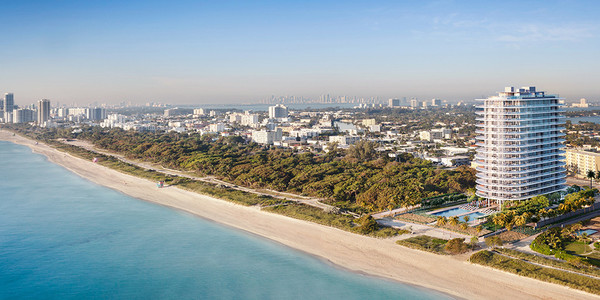 Eighty-Seven Park is a unique high-rise with 18 stories of unsurpassed beauty and convenience. With picturesque backdrops and scenic imagery, this amazing complex captures the allure and essence of the nautical-aquatic environment below. With 70 estate-quality condos, you get the latest in smart kitchens and appliances.
Similarly, the building is perfect for domestic – international investors, families, and business-minded professionals. It is equally great for those seeking second homes due to traveling and work. With a great range of amenities and Mother Nature at her finest, there is so much to see and explore at Eighty Seven Park.
Here are some of the amenities for those that call Eighty-Seven Park home:
Two oceanfront swimming pools – perfect for nautical activities or R&R after work or play.
Poolside cabanas – great for lounging around and enjoying tropical – exotic poolside drinks and appetizers.
Soul Center – a full-service spa with treatments that will revitalize and rejuvenate the mind, body, and spirit.
Cutting-Edge Fitness Center – stick to your daily workout and fitness regimens with state-of-the-art equipment and accessories. Personal training available upon request.
Spectacular Art Collections – Curated art collection within the magnificent lobby and garden areas; modern and contemporary art selections, showcases, sculptures and more for all art enthusiast and aficionados.
Botanical Exhibitions – enjoy the natural flora and breathtaking scenery that truly accentuates Eighty Seven Park in Miami Beach as a whole. An on-site botanist is available for condo owners that need floral arrangements for all occasions.
Library Gallery – enjoy your favorite reads as you sip the finest wines and snacks courtesy of the Enoteca Wine Bar.
Fugo Bar – specializing in cold-pressed juices and organic foods for health-minded individuals and family members. The perfect way to wind down after work or workouts at the on-site fitness center.
Business SMART Center – Wi-Fi, computers, printers, faxes, data-ports and everything you need for your daily business errands.
Private Picnic Park – designated for condo owners only.
For more information on Eighty Seven Park Pre-construction condos, simply contact us today or visit our website.